Cart Manager:
Select 'myVirtualMerchan't from drop-down list in the payment gateway manager screen and press 'submit'.
Once you are at the manager screen for the gateway, enter and save the the following:
1. Gateway Merchant ID   ( assigned by Virtual Merchant )
2. Gateway User ID  ( word: website)
3. Gateway Customer Code   ( setup in Virtual Merchant control panel )
4. Gateway PIN  ( assigned by Virtual Merchant )
5. CVV2 / CVC2 Indicator. If you need to collect this information, select 1 to collect at the payment form provided by the gateway.
Virtual Merchant Control Panel:
In their control panel you will need to setup some extra variables in order for AgoraCart to maintain state and get the information it needs passed back to your storefront. The following assumes web only sales.
Step 1:
From the drop-down list that appears under 'terminal' when moused-over, select 'merchant'.

Step 2:
Next, a fly-out menu will appear. Select 'PaymentFields'.

Step 3:
This will bring up a screen listing all the payment fields that your form will use.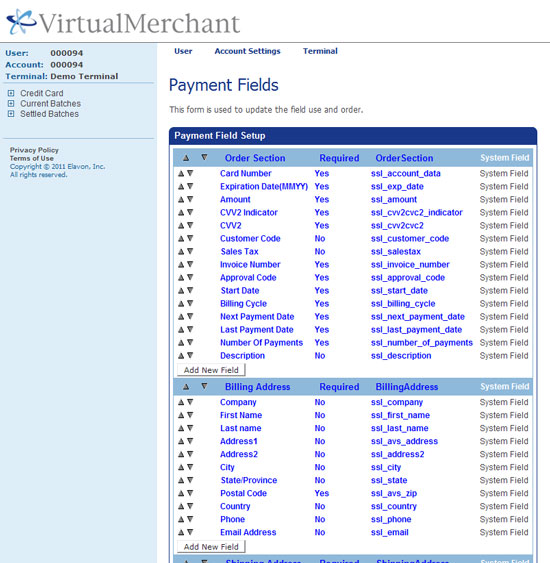 Click on the 'Add New Field' button at the bottom of the screen under the 'Custom Fields' header box.

Step 4:
Here you will add the following new fields (case sensitive):
MyVirtualMerchant_ssl 
cart_id_ssl
Each field above should also have these properties:
check these boxes:
+ Forward on Approval
+ Forward on Decline
+ Required
+ show in email to merchant
Max Number of Characters: 20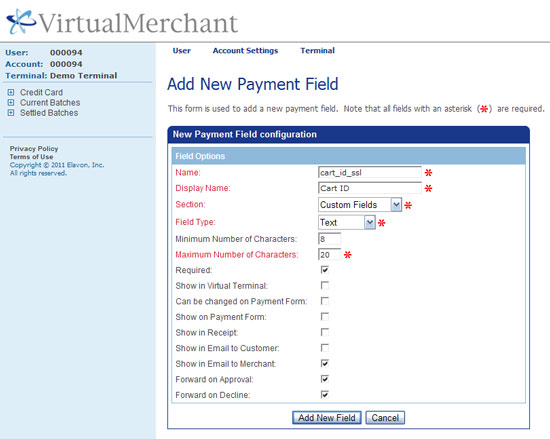 FINAL NOTES:
If you need to add more custom fields to the form submit from your storefront without editing the code directly, you can latch onto a codehook called: 'MyVirtualMerchant_submit_page_output' . Then, within your codehook subroutine code, you can added hidden form elements to a variable called: $codehook_stuff . Codehooks are addressed elsewhere and within the user forums.